White Marlin
Order: Perciformes (White Marlin)
Family: Istiophoridae (White Marlin)
Genus: Tetrapturus (White Marlin)
Species: albidus (White Marlin)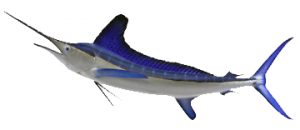 White Marlin are caught while Deep Sea Fishing in Miami and while Live Bait Fishing in Miami
White Marlin Characteristics:
White marlin generally show-up in Miami and Miami Beach, in our Gulf Stream waters, during the springtime. They are sometimes referred to or called 'white or whites'. White marlin are highly prized game fish and if you are lucky enough to tie into one of these gorgeous billfish it will truly be a memorable Miami deep-sea fishing experience. They are tough fighters and it is not an easy task to wind a white marlin up to the boat. White marlin are billfish and they live along the northeastern coast of the United States, Mexico and in the Caribbean. Ocean City Maryland is famous for white marlin fishing. They are similarly colored to sailfish and blue marlin. They are closer to a blue marlin in coloration but do also resemble the coloration of a sailfish. White marlin are often larger than sailfish but often not as large as blue marlin. The most common identifying characteristics of white marlin are their rounded fins.
White Marlin Locations:
White marlin are mostly found in offshore waters. They may be found over coral reefs, artificial reefs, in the Gulf Stream, way offshore, or inshore of the Gulf Stream. White marlin are often found in Miami, Miami Beach and Ft. Lauderdale on the surface or just below the surface. They do however swim down to deeper depths. They are mostly found in the dark indigo blue water of the Gulf Stream.
White Marlin Size / Weight Range:
It is common to see a 'white' of 60-pounds or less. White marlin over 60-pounds also are not uncommon. When over 100-pounds; they are considered very big fish. Their size may vary from smaller fish to very large fish. White marlin fishing in Miami can be very exciting. They seem to show up in the springtime in Miami and Miami Beach. There are many varieties of big fish that can be caught while white marlin fishing in Miami. These gorgeous billfish are not a common catch offshore of Miami and offshore of Miami Beach but they are a highly prized catch and a fish that is considered a beautiful trophy. Replica trophy mounts are also available for white marlin and other Deep Sea fish.
White Marlin Fighting Ability:
White marlin are hard fighting billfish. They are well known because of their great strong runs and fantastic aerial displays. It is often not an easy task to entice a white marlin into actually striking the bait. Once approaching the bait, they may feed or may decide to turn away. 'Whites' are strong, fast and powerful. They have a lot of strength and they usually put on an excellent aerial show.
White Marlin Fishing in Miami – Fishing Techniques:
Live bait fishing; kite fishing, trolling and charter boat fishing are good ways and methods of white marlin fishing in Miami. Sometimes, they can also be caught while drift fishing and while anchor fishing.
Types of Bait for White Marlin Fishing in Miami:
Trolling baits such as ballyhoo, mullet and fresh bonito strips are very good. A fluorescent hula skirt when fished with ballyhoo or bonito strips may improve chances of raising a white marlin. Artificial trolling lures can also work well. Trolling artificial lures allows for faster speeds when trolling and thus covering more water area while fishing. Live bait and kite fishing works well. Live baits such as blue runners, pilchards, herring, sardines, goggle eyes also known as goggle eye jacks, rainbow runners and small bonito are favorites of white marlin.
White Marlin Fishing in Miami – Rods / Reels / Fishing Equipment:
Conventional fishing tackle works well for white marlin fishing in Miami and Miami Beach. Conventional deep-sea fishing rods and reels with 60-pound test fishing line are often used. Spinning rods and spinning reels may also work well. They often put up a very good and hard fight on spinning tackle. Anglers fishing for sailfish with live bait and spinning rods may get delightfully surprised if a white marlin grabs their sailfish fishing live bait, especially in the springtime.
White Marlin Fishing in Miami – Miami Marlin Fishing:
We fish for many different types of fish. We try to match our customer's expectations with the types of fish that are seasonal during the time of year in which they are fishing.
Miami Deep Sea Fishing Reservations for: Marlin fishing in Miami – Marlin fishing in Miami Beach – South Florida Marlin fishing aboard the Charter Fishing Boat THERAPY-IV – Phone: 305-945-1578.
*Certain types of fish and sharks may be restricted during certain closure periods
Note: Size ranges, sizes of fish and other information, etc. may be based on our own opinions, deep sea fishing experiences, etc. We are not responsible for any information that may be in error or for any typographical errors.
Let's go White Marlin Fishing aboard the THERAPY-IV in luxury and style !!!
Maximum 6 passengers
Never crowded
For Reservations and Information about:
White Marlin Fishing in Miami and White Marlin Fishing in Miami Beach Aboard THERAPY-IV
Phone: (305-945-1578)