Sailfish
Order: Perciformes (Sailfish)
Family: Istiophoridae (Sailfish)
Genus and Species: Istiophorus albicans (Atlantic Sailfish)
Genus and Species: Istiophorus platypterus (Pacific Sailfish)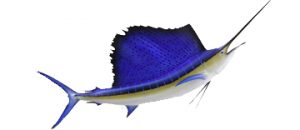 Atlantic Sailfish are usually caught on the surface while Deep Sea Fishing in Miami for sailfish and other deep-sea fish
Sailfish Characteristics:
Sailfish have a beautiful dorsal fin. They have the largest dorsal fin of all of the billfish in Miami and in South Florida. Sometimes people misspell the name of this gorgeous fish calling them sail fish. They are also sometimes referred to as 'snoots' because of their long bill. Sailfish often raise their dorsal fin when they are feeding in a school of baitfish. Groups of sailfish that are congregated together are often called pods. When a group of sailfish, also known as a pod of sailfish, surrounds a school of baitfish they raise their sails, (dorsal fins), to trap or contain the school of baitfish making them easier to feed on. The dorsal fin of a sail is big and beautiful. Sailfish get their name from their beautiful dorsal fin that resembles a sail. The upper area of a sailfish's body is typically blue, dark blue and at times blackish in appearance with a white or silver color on their lower sides and belly. They have dark round circles on their dorsal fin, which also may have a blue and purplish hue. Sailfish are easily distinguished from other billfish because of their outstanding, beautiful dorsal fin. Another name used by fishermen for sailfish is spindlebeak, sometimes spelled spindle beak.
Sailfish Locations:
Sailfish are mostly found in offshore waters. They may be found over coral reefs, artificial reefs, in the Gulf Stream, way offshore, or inshore of the Gulf Stream. Sailfish are often found in Miami, Miami Beach and Ft. Lauderdale on the surface or just below the surface. They do however swim down to deeper depths. They are mostly found in the dark indigo blue water of the Gulf Stream and along the edge of the Gulf Stream.
Sailfish Size / Weight Range:
It is common to see sailfish from about 30-pounds to about 50-pounds. A 50-pound or bigger sailfish is a nice big fish. It is not uncommon to see sailfish below 30-pounds or over 50-pounds. Sailfish are a highly prized catch and a fish that is considered as a beautiful trophy. Replica trophy mounts are also available for sailfish and other Deep Sea fish.
Sailfish Fighting Ability:
Excellent. Sailfish are excellent fighters. They are big, fast and strong and are well known for their fighting ability. They often put on a spectacular and exciting aerial display.
Sailfish Fishing in Miami – Fishing Techniques:
Live Bait fishing; kite fishing and charter boat fishing are excellent techniques and methods of sailfish fishing in Miami. Live bait fishing and kite fishing are perhaps the best methods for sailfish fishing in Miami, Miami Beach and Ft. Lauderdale. Trolling is also an excellent method for catching sails. Sometimes, sails may be caught when drift fishing and when anchor fishing. There is an art to trolling for sailfish and learning how they raise to a particular boat under different sea conditions and with different types of trolled baits. This is worth remembering and experimenting with. Knowing this will help to improve your sailfish fishing skills. Learning to be proficient in the different types of billfish fishing techniques will help to improve your Miami sailfish fishing skills.
Types of Bait for Sailfish Fishing in Miami:
Live bait is excellent for sailfish fishing in Miami when fished from outriggers, on flat lines and when fished from a fishing kite. There are many different types of live baits that are excellent for billfish fishing in Miami including: pilchards, herring, sardines, blue runners, mullet, pinfish, goggle eyes, also known as goggle eye jacks, small bonito, also known as flipper bonito or flippers. Trolling is also a good technique for sailfish fishing in Miami and Miami Beach. Good trolling baits include: ballyhoo, ballyhoo with a bright fluorescent hula skirt, bonito strips, bonito strips with a bright fluorescent hula skirt, rigged trolling mullet, rigged leaded trolling mullet, and a small red and white combination trolling feather with a strip of white pork rind or with a bonito strip attached to the feather. When drift fishing or anchor fishing, live bait or fresh ballyhoo and bonito strips may work well.
Sailfish Fishing in Miami – Rods / Reels / Fishing Equipment:
Conventional deep-sea fishing tackle with deep-sea fishing rods and reels works well when trolling. Trolling with 50-pound to 60-pound test line can produce some nice catches of sailfish. Spinning tackle works well when live bait fishing especially when using live pilchards, goggle eyes or live herring. Light to medium weight fishing gear often works well for sailfish fishing in Miami.
Sailfish Fishing in Miami:
We fish for many different types of fish. We try to match our customer's expectations with the types of fish that are seasonal during the time of year in which they are fishing.
Miami Charter Boat Reservations for: Sailfish fishing in Miami – Sailfish fishing in Miami Beach – Deep Sea fishing for Sailfish in South Florida aboard the Charter Fishing Boat THERAPY-IV – Phone: 305-945-1578.
*Certain types of fish may be restricted during certain closure periods
Note: Size ranges, sizes of fish and other information, etc. may be based on our own opinions, deep sea fishing experiences, etc. We are not responsible for any information that may be in error or for any typographical errors.
Let's go Sailfish Fishing aboard the THERAPY-IV in luxury and style !!!
Maximum 6 passengers
Never crowded
For Reservations and Information about:
Sailfish Fishing Miami and Miami Beach Aboard THERAPY-IV
Phone: (305-945-1578)