Hammerhead Sharks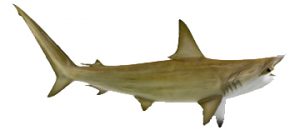 Hammerhead Sharks are caught while Deep Sea Fishing in Miami and while Shark Fishing in Miami
Hammerhead Shark Characteristics:
The correct spelling of this shark is hammerhead shark sometimes incorrectly spelled hammer head shark. Hammerhead sharks are easily identified by their hammer-like head and offset eyes. They are also often referred to as T-heads, T's or hammerheads. We will in this article interlace these various names. There are several different types of hammerheads. Some have very tall, pointed, sickle-like dorsal fins and others have shorter and more rounded dorsal fins. The color of hammerheads can vary from gray to a very pretty gold color. The great gray hammerhead shark, also sometimes known as the great hammerhead shark, is generally a dark color or gray color. The golden color hammerheads are often referred to as golden hammerhead sharks due to their coloration. There are several species of hammerheads with slight variations in their fins and head shape. These prehistoric looking sharks grow to large sizes and they are big, strong and very powerful. Many different species of sharks can be dangerous because of their multiple rows of sharp teeth, their speed, quickness and strength. Hammerhead sharks have a small mouth compared to other types of sharks but they have rows of very sharp triangular shaped teeth both in their upper and lower jaws. Their eyes are offset on the lateral aspects of their hammer-like head, which allows them to see their surroundings better than many other types of sharks.
Hammerhead Shark Locations:
Hammerhead sharks are generally found in offshore waters but can also be found in offshore and inshore waters. They can be found over coral reefs, artificial reefs or in open water. They can be found in Miami, Miami Beach and Ft. Lauderdale in the Gulf Stream and inshore of the Gulf Stream on the surface, below the surface or on or near the bottom.
Hammerhead Shark Size / Weight Range:
The size of hammerhead sharks in Miami and Miami Beach seems to vary with the time of the year. Generally, smaller T-heads are caught in the summertime and larger hammerhead sharks are caught in the winter and springtime. T-heads can be found in the ocean and in the Gulf Stream offshore of Miami and Miami Beach all year round. Hammerheads offshore of Miami seem to have an average weight range from about 50-pounds or less to about 250-pounds but they do get much larger than 250-pounds. A T-head above 250-pounds is a big, strong and very powerful shark. We catch sharks from about 25-pounds to over 1,000-pounds. The largest hammerhead shark that we have caught aboard the THERAPY-IV was 15 feet long and weighed 1,024 pounds. Hammerhead sharks are a highly prized catch and a fish that is considered as a beautiful trophy fish. Replica trophy mounts are also available for hammerheads and other Deep Sea fish.
Hammerhead Shark Fighting Ability:
Excellent. Hammerhead sharks are big, strong and very powerful. Whether large, medium-size or small, they are excellent fighters. It is not an easy task to fight and land a hammerhead. Shark fishing in Miami can be an exciting and enjoyable experience that provides lasting memories.
Miami Shark Fishing – Fishing Techniques:
Kite fishing, live bait fishing, monster fishing, power drifting, bottom fishing with large fresh bait, charter boat fishing, and drift fishing with large baits and live bait are all excellent methods for shark fishing in Miami. Monster fishing is fishing with live bait or big fresh baits on the surface and on or near the bottom. Hammerheads can also be caught while drift fishing but often after a hook-up the captain may have to start the engines to chase the fish as it strips line from the fishing reel. Trolling is generally not considered a good technique for shark fishing in Miami.
Types of Bait for Shark Fishing in Miami:
Live small bonito, blue runners, live mullet and large herring are excellent bait for shark fishing in Miami. Fresh bonito slabs, tuna slabs and kingfish slabs also make excellent shark baits. Kingfish slabs can work well for catching sharks but they are a little soft and sometimes it is difficult to maintain their shape and texture.
Miami Shark Fishing – Rods / Reels / Fishing Equipment:
Miami shark fishing tackle: Generally, conventional deep-sea fishing tackle is best with deep-sea fishing rods and reels with 60-pound test line, 80-pound-test line or heavier. Wire lines fished on or near the bottom also work well for shark fishing in Miami. There are people that use lightweight tackle for shark fishing. It can be very difficult to land a big hammerhead on lightweight fishing rods and reels especially in deep Atlantic Ocean water.
Miami Deep Sea Shark Fishing:
We fish for many different types of fish. We try to match our customer's expectations with the types of fish that are seasonal during the time of year in which they are fishing.
Miami Fishing Charter Reservations for: Shark fishing in Miami – Shark fishing in Miami Beach – Deep Sea Shark fishing in South Florida aboard the Charter Fishing Boat THERAPY-IV – Phone: 305-945-1578.
**Certain types of fish and sharks may be restricted during certain closure periods
Note: Size ranges, sizes of fish and other information, etc. may be based on our own opinions, deep sea fishing experiences, etc. We are not responsible for any information that may be in error or for any typographical errors.
Let's go Hammerhead Shark Fishing aboard the THERAPY-IV in luxury and style !!!
Maximum 6 passengers
Never crowded
For Reservations and Information about:
Shark Fishing in Miami Shark Fishing in Miami Beach
Aboard THERAPY-IV
Phone: (305-945-1578)