Reef Fishing in Miami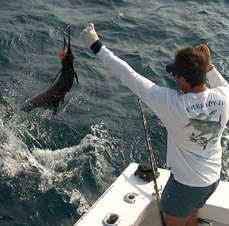 Reef Fishing
Reef Fishing in Miami is one of the easiest ways to catch fish. Reefs are underwater strips of rocks, sand and coral. They are best fished when deep. Reefs attract a wide array of fish and other organisms. Reefs frequently form near sunken boats and wrecks, some of which are intentionally sunk to improve fishing in the area. Reef Fishing in Miami is year round.
There are separate areas referred to as the inside reef, the middle reef and the outside reef that are fished with different techniques. You can expect to catch Grouper, Jacks, Snapper, Mackerel, Sea Bass and other bottom fish while aboard the THERAPY-IV. Using chicken rigs, jig fishing and live bait fishing are the best ways to fish reefs.
The captain and the crew aboard the THERAPY-IV are experienced in all of our local fishing methods. Capt. Stan has over 40 years of Miami fishing experience. The THERAPY-IV Deep Sea fishing charter boats are two, big, gorgeous air-conditioned charter fishing boats that offer deep-sea fishing in 1st class luxury and style. They also feature the best fishing tackle including great fishing rods, reels and kites. Deep Sea fishing in the Atlantic Ocean off of Miami is exciting because of the great variety of big fish and bottom fish that can be caught.
The THERAPY-IV welcomes beginners and experienced anglers. For reservations, give Capt. Stan a call at the THERAPY-IV (305-945-1578) and he will be happy to assist you with making your plans to go deep-sea fishing. The boats on Miami Beach dock at Bill Bird Marina in Haulover Park- a scenic area with beautiful water views.
Let's go Reef Fishing in Miami aboard
The THERAPY-IV in luxury and style !!!
Maximum 6 passengers
Never crowded
For Reservations and Information about:
Reef Fishing Miami Aboard THERAPY-IV
Miami Beach, Florida
Phone: (305-945-1578)