Grouper Fishing Miami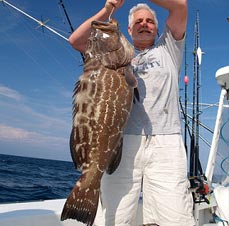 Grouper Fishing
Grouper Fishing in Miami and Miami Beach aboard the THERAPY-IV can be a lot of fun and very exciting. It is very important when bottom fishing or wreck fishing to charter a boat that has a lot of experience in the local areas. Sometimes, it takes pinpoint knowledge and experience when Grouper Fishing Miami, Miami Beach and South Florida to be able to find the wrecks and bottom spots where Grouper and Big Bottom Fish hangout. Compounding the situation, at times, is the strong currents that we have, so bottom fishing and wreck fishing experience matters when Grouper Fishing.
Capt. Stan was an early pioneer in Bottom Fishing and Wreck Fishing off of the coast of Miami, Miami Beach, Key Biscayne and Hollywood, Florida. Captain Stan and the THERAPY-IV crew know many South Florida Deep Sea Fishing Wrecks, where they are and how to fish them. There are many varieties of nice fish that hang out over these wrecks, at times these fish can get very large. There are many varieties of Grouper and Snapper that feed over these wrecks and around other bottom areas.
Bottom fishing is the method of catching Groupers, Snappers, big Amberjack, Tilefish and many other types of bottom fish. There are several different ways of bottom fishing including drifting, anchoring, shallow and reef bottom fishing, wreck fishing and deep dropping. The THERAPY-IV usually prefers wreck fishing and deep dropping which can provide opportunities to catch some nice big fish and if the fish are not biting on one spot we can just pick up and troll or run to the next spot. This is often a very successful method of Grouper Fishing and fishing for other nice bottom fish. The THERAPY-IV Deep Sea Fishing Boats (305-945-1578) are 2-big, gorgeous, air-conditioned Deep Sea Fishing Yachts with big-wide screen TV's, surround sound stereo systems, plenty of indoor and outdoor seating, nice bathrooms and is also loaded with lots of luxurious amenities to try to help make dreams come true. Electronics, including depth finders and fish finders are very important when Grouper and Bottom Fishing. The THERAPY-IV Deep Sea Fishing Boats dock at Haulover Park Marina on Miami Beach and are rigged and ready to go. Haulover Park Marina is now also called Bill Bird Marina at Haulover Park.
Come on down to the Miami Beach Shore and go deep sea fishing in Miami Beach on the THERAPY-IV. Capt Stan Saffan would be happy to help you with your fishing reservations aboard the THERAPY-IV, give him a call.
Let's go Fishing in luxury and style !!!
Maximum 6 passengers
Never crowded
For Reservations and Information about:
Grouper Fishing Miami and Miami Beach Aboard THERAPY-IV
Phone: (305-945-1578)