Snapper
Order and Family: Perciformes Lutjanidae (all of below varieties of Snapper)
Genus and Species: Lutjanus cyanopterus (Cubera Snapper)
Lutjanus griseus (Mangrove Snapper)
Lutjanus analis (Mutton Snapper)
Rhomboplites aurorubens (Vermillion Snapper, Beeliner, Beeliner Snapper)
Lutjanus vivanus (Yelloweye Snapper, Yelloweye, Silky Snapper, Silky, Silk Snapper)
Ocyurus chrysurus (Yellowtail, Yellowtail Snapper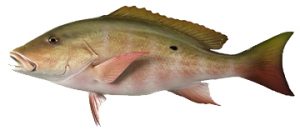 Snapper are generally caught while Bottom Fishing in Miami and while Wreck Fishing in Miami
Snapper Characteristics:
There are many different types of snapper that frequent the ocean waters in Miami, Miami Beach, and South Florida some of which are listed above. Snapper can be caught from inshore waters, fishing piers, docks and offshore waters in the ocean. This piece will cover snappers in the ocean and mostly with snapper in the offshore areas of Miami, Miami Beach and South Florida. We will mostly cover snapper that are caught in offshore waters. Snapper are generally bottom-feeding fish. They can be found over reefs, coral patches, rocky bottoms, ledges, drop-offs, sunken ships, artificial reefs, sunken tires, concrete blocks, outfalls and pipelines.
Snapper may widely vary in coloration and markings. Generally, many snapper look similar except for variations of color and markings. There is a difference in size, weight, coloration and markings of different types of snapper. They may vary in color with shades of red, orange, gray, brown, yellow, black spots, yellow spots, bands of different colors and many other different variations of color and markings. They may also have eye color variations. Many people mistakenly use the name red snapper for any fish in this category that has a red or reddish coloration. Generally, snapper have sharp teeth and anglers should be cautious when handling them.
Snapper Locations:
Snapper can be found offshore and inshore. They can also be found in inland areas such as Biscayne Bay and in inland waterways and canals. Snapper are often found offshore over wrecks, coral reefs and artificial reefs in Miami and Miami Beach. They are bottom-feeding fish and can be found in the Gulf Stream and inshore of the Gulf Stream on the bottom. They are not generally considered to be very far offshore fish.
Snapper Size / Weight Range:
There are many types of snapper and weights and sizes can vary significantly. Snapper fishing in Miami can produce wide variations in the size and weight of different types of snapper. They can vary in size and type from less than 1 pound to monstrous very large snapper of over 100-pounds. Cuberas are the largest variety of snapper in Miami and can grow to enormous sizes. Whether large, medium or small, snapper fishing in Miami can be fun for adults and families with kids. Mutton snapper can grow to very large sizes; they also have beautiful colors and beautiful markings.
Snapper Fighting Ability:
Most snapper are good fighting fish. In general, they are good fighting fish on the appropriate type of tackle. Most people that go snapper fishing in Miami enjoy fishing for them especially when they are feeding well. Some snapper may not fight as well as others but if the action is good, this can also be fun and exciting. Often, there may be a difference in the way different types of snapper fight depending on the type of snapper, the amount of current, the type of fishing tackle and the depth of water that they are caught in. Snapper fishing in Miami can be a lot of fun and action-packed.
Snapper Fishing in Miami – Fishing Techniques:
Bottom fishing, wreck fishing, artificial reef fishing, charter boat fishing, drift fishing and anchor fishing can all be effective methods of snapper
Types of Bait for Snapper Fishing in Miami:
Generally, snapper are good eaters when they are feeding. Live bait fishing for snapper generally includes: live shrimp, pilchards, herring and sardines. Bigger varieties of snapper may eat larger live bait. Fresh bait for snapper fishing in Miami includes: ballyhoo, ballyhoo strips, bonito strips and squid. Chunks of ballyhoo, bonito and squid also works well for smaller and medium size snapper. Larger snapper may also feed on strips or chunks of bait but live bait is often more successful. Chumming, especially in shallow water may help. There are many different types of live bait and fresh bait that works well for snapper fishing. It is always a good idea to have a wide assortment of fresh bait and live bait onboard.
Snapper Fishing in Miami – Rods / Reels / Fishing Equipment:
This depends on the angler's preference, the fishing technique being used, the depth of water and the type of snapper being targeted. Some anglers prefer to use conventional deep-sea fishing tackle with deep-sea fishing rods and reels especially in deeper water or when over deeper artificial reefs and some anglers prefer to use spinning rods and spinning reels when fishing over coral reefs, coral patches or over shallow wrecks and shallow artificial reefs. Most often when casting or dropping an artificial lure for snapper, spinning tackle may be used although, at times, bait-casting reels or conventional rods and reels can be used in shallow water.
Snapper Fishing in Miami – Bottom Fishing in Miami for Snapper:
We fish for many different types of fish. We try to match our customer's expectations with the types of fish that are seasonal during the time of year in which they are fishing.
Miami Bottom Fishing Reservations for: Snapper fishing in Miami – Snapper fishing in Miami Beach – Deep Sea fishing for Snapper in South Florida aboard the Charter Fishing Boat THERAPY-IV – Phone: 305-945-1578.
*Some types of snapper, other fish and sharks may be restricted during certain saltwater and deep-water closures
Note: Size ranges, sizes of fish and other information, etc. may be based on our own opinions, deep sea fishing experiences, etc. We are not responsible for any information that may be in error or for any typographical errors.
Let's go Fishing in luxury and style !!!
Maximum 6 passengers
Never crowded
For Reservations and Information about:
Grouper Fishing Miami and Miami Beach Aboard THERAPY-IV
Phone: (305-945-1578)