Wahoo Fishing Miami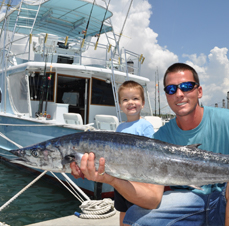 Wahoo Fishing
Wahoo Fishing Miami and Miami Beach aboard the THERAPY-IV can be lots of fun. Wahoo vary in size from smaller fish that, at times, seem to be in small schools, to very large and powerful single fish. Wahoo are beautiful fish, they are sleek, slender and powerful with beautiful markings and distinctive beautiful stripes that are visible in the water and lit up when first boated.
Old fishing lore says that Wahoo are the fastest swimming fish in the ocean and arguably they ARE one of the fastest swimming fish in the ocean. Wahoo have razor sharp teeth so passengers and crew must be very careful when handling them. Wahoo can be caught off of South Florida all year round but in our opinion the best Wahoo Fishing in Miami and Miami Beach is in the late spring and during the summer months. Wahoo Fishing is usually best in the deep indigo blue color Gulf Stream water. Fortunately, the Gulf Stream passes very close to the Miami Beach Shore making it possible to catch nice Wahoo, especially during the late spring and summer. Although not a common catch, Wahoo do swim in our Miami and Miami Beach Gulf Stream waters. Generally, we catch Wahoo while also fishing for other varieties of fish.
Some of the methods of Wahoo fishing include drift fishing, live bait fishing and trolling. Although the THERAPY-IV also enjoys Live Bait and Kite Fishing, it is often by Trolling that most Wahoo are caught. There are several methods of trolling in the dark indigo blue Gulf Stream water that can lead to successful Wahoo Fishing. Trolling on the surface can be productive, especially with good quality ballyhoo tipped with a bright fluorescent hula-type skirt. Also, fishing down deeper with a planer or wire line with Ballyhoo and a big heavy red, purple or black combination feather can be very successful. Some people like to troll only lures at faster speeds. We prefer a combination of baits and lures trolled at speeds to make the baits look like they are swimming naturally or skipping on the surface appearing to look like they are trying to get away from on oncoming fish. The reason we like trolling as described above is because of the chances of catching many other varieties of nice fish at the same time while Wahoo Fishing. Capt. Stan and the THERAPY-IV Charter Fishing Boats (305-945-1578) have caught some very big Wahoo. There are many other types of fish that can be caught while Wahoo Fishing including Sailfish, Marlin, Dolphin (Mahi-Mahi), Barracuda, Tuna, Bonito, and many other types of fish.
The THERAPY-IV Deep Sea Charter Fishing Fleet consists of 2 big, beautiful, air-conditioned Deep Sea Fishing yachts that are loaded with amenities to try and help make your Miami Fishing Cruise successful and enjoyable. We have big-wide screen TV's with surround sound stereo systems, plenty of seating both indoors and out, nice bathrooms and much, much more. Capt. Stan has over 40 years of Miami and Miami Beach Wahoo Fishing, Trolling and in the Best Deep Sea Fishing in Miami.
For help with planning your Miami and Miami Beach Deep Sea Fishing Vacations, please call Capt. Stan aboard the THERAPY-IV Charter Fishing Boats.
Let's go Wahoo Fishing aboard the
THERAPY-IV in luxury and style !!!
Maximum 6 passengers
Never crowded
For Reservations and Information about:
Wahoo Fishing Miami and Miami Beach Aboard THERAPY-IV
Phone: (305-945-1578)