Sailfish Fishing Miami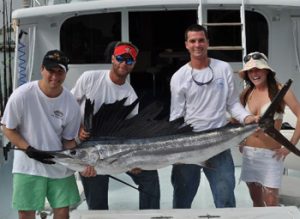 Beautiful Sailfish, Grey and Blue, caught aboard the Therapy-IV
Sailfish Fishing
Fishing Miami and Miami Beach aboard the THERAPY-IV can be lots of fun and very exciting. In the past, this area was known for its best Sailfish Fishing primarily in the spring. However Sailfish Fishing is good in the warm Gulf Stream waters of Miami, Miami Beach and South Florida, all year round.
Sailfish can grow 6 to10 feet long and weigh 60 to 90 pounds. They can reach speeds of up to 70mph and are known for their astonishing jumps. Their tall dorsal fins give them a distinct look because they resemble a sail when raised. The crew on the THERAPY-IV uses kites to catch sailfish. The kite utilizes live bait and skims the surface of the ocean, allowing us to catch the fish at further, precise distances.
The captain and the crew aboard the THERAPY-IV are experienced in all of our local fishing methods including special techniques for our local sailfish fishing. Capt. Stan has over 40 years of Miami sailfish fishing experience.
The THERAPY-IV Deep Sea fishing charter boats are two, big, gorgeous air-conditioned charter fishing boats that offer deep sea fishing in 1st class luxury and style. They also feature the best fishing tackle including great fishing rods, reels and kites. Deep Sea fishing in the Atlantic Ocean off of the Miami coast is exciting because of the great variety of big fish and bottom fish that can be caught.
The THERAPY-IV welcomes beginners and experienced anglers. For reservations including Marlin Fishing, Sailfish Fishing and Shark Fishing in Miami, give Capt. Stan a call at the THERAPY-IV (305-945-1578) and he will be happy to assist you with making your plans to go deep sea fishing. The boats on Miami Beach dock at Bill Bird Marina in Haulover Park- a scenic area with beautiful water views.
Let's go Sailfish Fishing aboard the THERAPY-IV in luxury and style !!!
Maximum 6 passengers
Never crowded
For Reservations and Information about:
Sailfish Fishing Miami and Miami Beach Aboard THERAPY-IV
Phone: (305-945-1578)