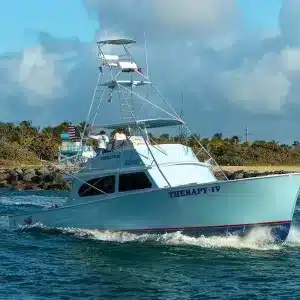 Bottom fishing is a popular activity in Miami for good reason. The waters off the coast of Miami are home to a variety of bottom fish, including grouper, snapper, amberjack, almaco jacks, tilefish, sharks, hammerhead sharks, and cobia. And when you hook a big one, the adrenaline rush is unlike anything else.
There are many ways to bottom fish in Miami, but the most popular methods are drift fishing, anchor fishing, wreck fishing, and deep dropping. Drift fishing is done by letting the boat drift with the current while you fish. Anchor fishing is done by anchoring the boat in one spot and fishing from there. Wreck fishing is done by fishing around shipwrecks, which are often home to large fish. And deep dropping is done by dropping bait to the bottom of the ocean, often in depths of over 1,000 feet.
Here are some tips for bottom fishing in Miami:
Use the right bait.

The best bait for bottom fishing in Miami varies depending on the fish you're targeting, but some popular options include squid, shrimp, and cut bait.
Use the right tackle.

The size of your tackle will depend on the size of the fish you're targeting. For smaller fish, you can use light tackle. But for larger fish, you'll need to use heavier tackle.
Be patient.

Bottom fishing can be a slow process, but it's worth it when you finally hook a big one.
If you're looking for an adrenaline rush and a chance to catch some big fish, then bottom fishing in Miami is the perfect activity for you. Book a charter with Therapy-IV today and experience the excitement for yourself!