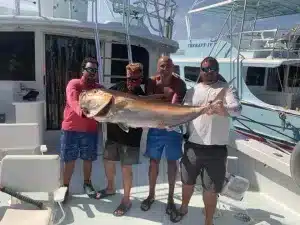 If you're an avid angler looking for a truly unique saltwater angling experience, you can't go wrong with a trip out into the deep waters of the Atlantic beyond Miami. Miami deep sea fishing offers up some of the best of what the Sunshine State has to offer – the chance to catch huge, monster fish far out in the open ocean. This is not an experience to be taken lightly, as the fish encountered here can live up to and exceed your expectations. That's why many of the top deep sea fishing charters in Miami choose to offer offshore anglers the comfort and security of a Therapy-IV fishing yacht.
As a premier Miami fishing experience, Therapy-IV takes deep sea fishing trips far offshore. This allows anglers to take advantage of Miami's rich variety of fishing opportunities, such as trolling, jigging, bottom fishing, and more. No matter the style of fishing you prefer, this excursion will provide an unforgettable day of sea-faring on the open ocean.
What's more, Therapy-IV has options available to accommodate anglers of all skill levels. From beginner to experienced, all guests can take advantage of their helpful staff and equipment to ensure that everyone is sure to have an enjoyable time on the open ocean. All trips are also fully supplied with the gear, bait, and tackle necessary for a successful fishing trip.
The Therapy-IV crew is an experienced and knowledgeable deep sea fishing team that will assist you every step of the way. Whether it's helping you to locate the best spots to fish, providing instructions on how to bait, run, and fight the fish you catch, or just keeping your spirits high, you can be sure that your day out there will be a great one. With an overall goal of providing a great day of fishing, they'll do whatever it takes to ensure you have a fun, unforgettable experience on the open ocean.
The big fish caught during a Miami deep sea fishing trip can be breathtaking to behold. From gigantic tarpon and grouper, to pelagic predators such as sailfish, blue marlin, and wahoo, anglers can expect to experience the thrill of encountering a monster fish with every cast. To take your saltwater angling exhilaration up to a whole new level, the Therapy-IV team can also accommodate thrill seekers looking to do some light tackle day trolling with rod-jumping mahi, wahoo, and sailfish.
If you're looking for a unique angling experience in Miami, don't miss the chance to go out on a deep sea fishing trip with Therapy-IV. With exceptional service, top-of-the-line fishing gear, and a knowledgeable and helpful crew, this Miami deep sea fishing trip is an experience you'll be sure to remember. So don't wait – book your trip with Therapy-IV today!