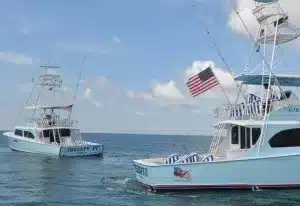 It's that time of year again where we all come together to celebrate the spookiest of seasons, Halloween! With the cooler weather and the anticipation of ghostly activities, there's nothing quite like taking a break from the holiday chaos and heading off for Miami deep sea fishing. 
When you think of deep sea fishing, you think of the warm sun on your face, the salty scent in the air, and plenty of monsters hidden in the depths below. But the swift current of South Florida also brings some of the best catches you can find. Whatever your skill level, Miami deep sea fishing is sure to give you a thrilling adventure on the piled-up barracudas and cobias that swim below the surface.
With so much to explore, you'll never be bored on your deep sea fishing expedition. Miami's warm waters are rife with offshore bottom fishing, trolling, and deep-drop fishing—so whatever your preference, you are sure to find the perfect spot for hauling in the biggest catch. 
With world-renowned fishing guides and excellent customer service, you can trust Therapy-IV for a safe and fun experience. Our highly qualified crews are eager to help you make the most of your time on the open water and only the highest quality fishing gear is provided. So, forget the spooky tricks and get ready for a fishing treat with Therapy-IV!
Throw on your aqua-gear and make the most of Halloween with a deep sea fishing trip off the Florida coast. It's simply the perfect way to get the pleasure of Halloween and a great fishing experience in one unforgettable day. 
If you're looking for a unique experience like no other, now is the time to give Therapy-IV a try and book your next Miami deep sea fishing expedition! To book your trip with Captain Stan and his crew of Miami fishing experts, call us today 305.945.1578.