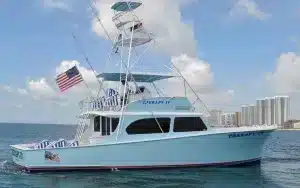 As the weather starts to cool, one of the most exciting and adventurous activities you can do in Miami is deep sea fishing. With its prime location along the coast and its natural abundance of fish, taking part in a Miami deep sea fishing excursion is a must for anyone living in or visiting the area.
Deep sea fishing is a unique and exhilarating experience that allows you to explore the depths of the ocean and see some of the most exotic animals and fish in their natural environment. Not to mention, it's a great way to relax and unwind from life's stresses. While some people may be hesitant because of the intensity associated with the sport, Miami-based Therapy-IV offers a fun deep sea fishing experience. We practice a relaxed approach to fishing, guided by our expert staff; we encourage our anglers to take photos and enjoy the beauty of the ocean.
If you're ready for an unforgettable deep sea fishing experience, Therapy-IV can take you out on the water in one of our modern deep sea fishing boats. Our experienced captains and first mates will be on the boats to assist with baiting, casting, and reeling. We also utilize modern technology to help anglers find the best spots for catching various species like redfish, snapper, mackerel, kingfish, cobia, tarpon, permit, and an array of other species.
Our clients find the atmosphere of our deep sea fishing excursions to be very calming and serene. Deep sea fishing can be a great chance to relax and recenter before the busy fall season gets into full swing. In addition to fishing, clients can also gain valuable knowledge from our experienced guides who will teach them about the local fish, environment, and waters.
Whether you're a first-time angler or a sea fishing enthusiast, Therapy-IV has the experience and staff to give you an immersive and memorable deep sea fishing experience. Come explore Miami's deep-sea fishing in the fall with us, and leave feeling relaxed and rejuvenated.
To book your trip with Captain Stan and his crew of Miami fishing experts, call us today 305.945.1578 or visit us online.