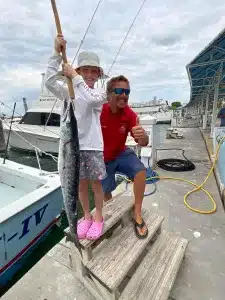 Are you looking for an exciting outdoor activity in Miami? If so, deep sea fishing is the perfect choice! Deep sea fishing in Miami offers an unforgettable experience with the chance to catch a variety of fish species. Whether you're an experienced angler or just starting out, here is a guide to get you started.
First and foremost, you'll need the right gear. A good quality fishing rod and reel are essential for deep sea fishing in Miami. Choose a rod that is rated for saltwater and can handle a variety of fish species. Be sure to get a reel that is also designed for saltwater to ensure it will stand up to the tough conditions.
Before heading out to sea, you'll need to make sure you have the proper bait. Depending on the type of fish you plan to target, you may need a variety of bait. Live bait such as shrimp, sardines, and squid are great for catching species like grouper and snapper. If you plan to target pelagic species like tuna, mackerel, or wahoo, then you'll need to use lures or artificial bait.
When you're ready to head out, you'll need to choose a spot. Miami offers a variety of great fishing spots, both inshore and offshore. If you're just starting out, it's best to stay close to shore. This will give you the opportunity to practice your technique without having to worry about rough seas. If you're more experienced, you can venture further out to sea and target larger fish species.
Finally, make sure to stay safe while you're out on the water. Wear a life jacket and follow all the safety guidelines when fishing in Miami. Check the weather conditions before setting off and be sure to have an experienced captain with you if possible.
Deep sea fishing in Miami is a great way to enjoy the outdoors and catch some amazing fish. With the right gear, bait, and safety precautions, you can have a successful and enjoyable fishing trip. So what are you waiting for? Get out there and start reeling 'em in!
To book an unforgettable day of deep sea fishing with Captain Stan and his experienced Miami fishing crew, call us at 305.945.1578 or visit us online.