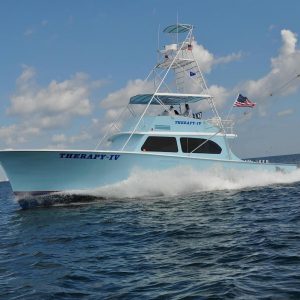 If you're looking for a unique and unforgettable way to spend a spring day in Miami, then you should consider a deep sea fishing trip with Therapy-IV. This boat has been fishing off the coast of Miami for over 40 years and is known for its exceptional service, quality equipment, and experienced crew.
At Therapy-IV, you can choose from a number of deep sea fishing packages ranging from half-day trips to full-day adventures. You'll be able to catch a variety of fish, including snapper, grouper, amberjack, sailfish, and more. The crew will provide all of the necessary gear and bait so you can focus on having a great time.
When you book your trip with Therapy-IV, you can rest assured that your safety is their top priority. All of their boats are equipped with the latest navigation and safety equipment, and their experienced captains are knowledgeable about the area and adhere to all safety regulations.
So, if you're looking for a fun and exciting way to spend a spring day in Miami, make sure to book a trip on the Therapy-IV. You'll have a blast deep sea fishing and exploring the underwater world. It's sure to be a day that you'll never forget!
To book an unforgettable day of deep sea fishing with Captain Stan and his experienced Miami fishing crew, call us at 305.945.1578 or visit us online.