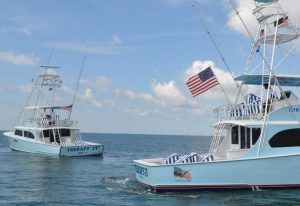 Are you looking for an exciting activity to do while on Spring Break in Miami? Look no further than deep sea fishing with Therapy-IV! At Therapy-IV, we offer a wide range of fun and memorable experiences for groups of all sizes. From the experienced angler to the novice, Therapy-IV has something to offer everyone. 
Your trip begins at the beautiful Miami Beach Marina, where you will be welcomed by the friendly and knowledgeable crew of Therapy-IV. Prepare to be amazed by the wealth of marine life that can be found in this area, including sailfish, marlin, mahi mahi, tuna, wahoo, and more. With over 40 years of experience, the crew of this charter fishing vessel knows the best places to go to find the biggest and best catches. 
Once out on the open water, your captain will provide tips and tricks for the most successful deep sea fishing. Therapy-IV will also provide you with all the necessary gear, including rods, reels, tackle, bait, and more. So don't worry if you don't have any of your own fishing equipment – Therapy-IV has you covered! 
So if you're looking for a fun and unforgettable way to spend your Spring Break, consider deep sea fishing with Therapy-IV. With years of experience, a friendly and knowledgeable crew, and a wide variety of catches, this trip is sure to be one of your most memorable Miami experiences.
To book your trip with Captain Stan and his crew of Miami fishing experts, call us today 305.945.1578.