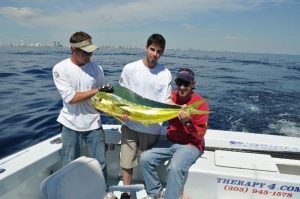 While deep sea fishing is a must-do for any trip to Florida, it can be a bit daunting for first-timers. Therapy IV is the best Miami deep sea fishing charter you could dream for if you're new to deep sea fishing. We provide half-day and full-day charters, local, experienced captains that like fishing, and a comfortable experience aboard our sportfishing boats.
Here are a few of the best reasons why you should choose Therapy IV for deep sea charters:
No Prior Experience Needed
We enjoy sharing our knowledge of fishing with others. The crew and friendly captains are happy to introduce you to the pleasures of deep sea fishing. We start with the fundamentals and work our way up. Learn to cast, reel, and bait. Find out what fish will grab from a line, where they like to hide, and how to cook them for a good dinner!
Everything is Provided
Everything is included in your charter with Therapy IV. We provide all the bait, tackle, and equipment required for a productive day on the water. We'll show you the best areas and give you professional pointers on reeling in various species. Going on one of our excursions doesn't even require you to have a fishing license! Our charter captain's license covers your license.
We can Locate the Fish
Captain Stan and his crew have been frequenting these seas for fishing for decades. They are always up-to-date on what events are happening when and where. In the event that our current endeavor proves unsuccessful, we shall move on to a new location. We want to provide you a memorable experience that you'll never forget, and we think Miami fishing is a great place to start.
Are you ready to take your company on a Miami deep sea fishing trip? To book your trip with Captain Stan and his crew of Miami fishing experts, call us today 305.945.1578.