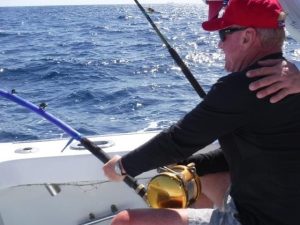 Planning is required when fishing from a boat. This is especially true for Miami deep sea fishing excursions because you will be far from land and the weather can change quickly. With this in mind, here are some pointers on how to prepare for a Miami deep sea fishing trip:
Make Sure You Dress Appropriately
The weather has a big impact on what to wear when deep sea fishing. In the summer, a good, breathable baselayer shirt and a light, long-sleeved shirt with UPF protection will work. Add something warm, like a fleece jacket or waterproof cold-weather coat, during the colder months. To prevent slipping, choose shoes with rubber soles and make sure they are non-skid. Wear clothing that you don't mind getting dirty. The best option is to wear fishing clothing that is waterproof and stain-resistant.
Check the Weather Before Leaving
Bad weather can ruin a fishing trip more than anything else, but only if you are unprepared. Check the weather forecast prior to your trip and bring weather protection such as sunglasses, a hat, and sunscreen.
Don't Forget to Pack Seasickness Medication
Consider yourself immune to seasickness? After deep sea fishing, you may have second thoughts about this. Even the most resilient fishermen can be severely impacted by a lengthy (or even brief) voyage on turbulent waters. Ensure that only the reels are spinning by bringing anti-motion sickness medication.
To book your trip with Captain Stan and his crew of Miami fishing experts, call us today 305.945.1578.