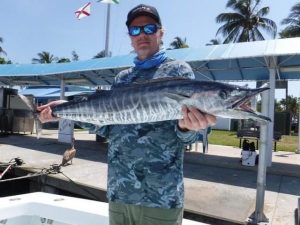 In search of a thrilling adventure on the water? You could try your luck at wahoo fishing. Work with a seasoned crew who are familiar with the best approaches and techniques for bringing one of these exciting catches aboard.
The sleek, fast-moving wahoo can swim at top speeds of 70 mph. They might even smolder the reel and rip your line off. Without the proper tools, it's challenging to reel one in because they have soft mouths that easily tear. The wahoo is a cunning fish that will weave under and around the hull of the charter, luring you to try and catch them. They enjoy pursuing and hunting prey, so be ready to outwit their cunning instincts.
Be ready for an adventure because catching a wahoo will not be easy. We know where to troll for wahoo because our Miami deep sea fishing charters are familiar with the area and wahoo's favorite hangouts. Our skilled crew can account for the wahoo's speed and ability to pull or break lines. The best part is that Therapy IV does not require you to bring your own supplies or buy new ones. We supply everything for you!
Wahoo are also known for their tasty, slightly sweet flavor. They respond well to simple seasonings such as olive oil and salt, but are especially delicious when marinated in heavier, tangier marinades that penetrate the flesh and impart a more robust flavor.
Ready to reel in a wahoo? To book your trip with Captain Stan and his crew of Miami fishing experts, call us today 305.945.1578.