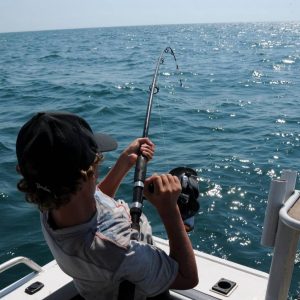 The truth is that there is never a bad time to go deep sea fishing in Florida, but if you're looking for a specific species, you might have to plan your trip for the fall. The best fishing in Miami, according to some anglers, is from September through November. This is because beginning with the cooler months of the year, fish migrate and move closer to the warmer near-shore waters. 
Here are some of the most popular fish to catch this fall: 
King Mackerel
These predators, also known as kingfish, migrate south each fall to spend the winter in the warmer Florida Keys. When mackerel are making their run south in the fall, many anglers have the most success catching them.
Snook
Snook are a very sought-after fish among both locals and visitors because they are almost entirely found only along the Florida coast. 
Grouper
The fall fishing season offers a variety of grouper species. Grouper are bottom-dwelling fish that can grow to be enormous and are always in high demand. They put up a good fight and will undoubtedly make your fishing trip memorable.
Spotted Sea Trout
In Florida's Atlantic waters, there is no closed season for spotted sea trout, one of the most popular gamefish, but the fall is a good time to catch them. They hit on almost anything, making them entertaining to catch.
Ready to test your angling skills this fall? To book a Miami deep sea fishing trip with Captain Stan and his crew, call us today 305.945.1578.