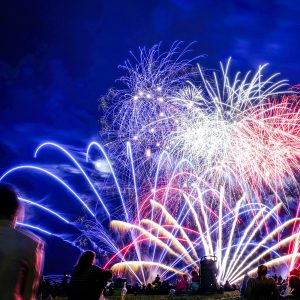 If you reside in Miami, you are aware that there is never a lack of exciting things to do here. Join us as we celebrate America's independence with a wide range of vibrant events and fireworks all throughout the city. 
America's Birthday Bash
America's Birthday Bash, the largest and most well-known 4th of July celebration, is held at Bayfront Park. The main event is a stunning fireworks display over gorgeous Biscayne Bay, but there is also live music, lots of food trucks, a Kids' Zone, and other attractions. The celebrations begins in the afternoon, and the fireworks show begins around 9:00 p.m. 
4th of July Fireworks on Ocean Drive
On South Beach's Ocean Drive, there is yet another breathtaking fireworks display. Many sidewalk cafés, restaurants, and rooftop locations in the vicinity offer direct views of the colorful spectacle. Fireworks begin around 9:00 p.m.
4th of July Parade and Fireworks in Key Biscayne
A customary parade with flying planes, marching bands, golf carts, floats, and a ton of decorations themed around the US will take place in Key Biscayne at 11 am. The patriotic procession travels down Crandon Boulevard from Harbor Drive to West Enid Drive.
This update is provided to you by Therapy IV, a Miami deep sea fishing charter service. To book your trip with Captain Stan and his crew of Miami fishing experts, call us today 305.945.1578.