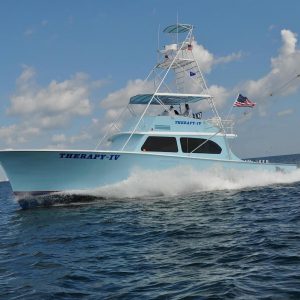 The tarpon is one of the many sea creatures that prove to be difficult to catch. Because of the fish's unpredictability and tenacity, anglers often spend their entire lives mastering their tarpon fishing method.
Anglers can catch Tarpon all year on a Miami fishing trip, but the best time to catch them is from late December to early June, when they weigh between 20 and 170 pounds. Come spring, bigger Tarpon head to the waterways, ready to battle if they are hooked, thanks to their powerful character. Many anglers travel to Miami, Florida, with the hopes of capturing a big Tarpon and experiencing its acrobatics while attempting to reel one in. Government Cut and Haulover Inlet are two places where you'd be best located to catch them.
Tarpon bait includes mullet and small crabs, although shrimp runs, which occur frequently during the winter, will also work. Tarpon eats at all hours of the day and night, but if you're brave enough to go night fishing, the fish will be less hesitant because it won't be able to see the fishing lines owing to the darkness.
Miami, Florida is a fishing paradise, with opportunities to capture a variety of fish species from the shallow flats to the vast ocean. In addition to Tarpon, anglers can go Miami deep sea fishing to capture species like Barracuda, Bass, Dolphinfish, Mackerel, Snapper, Tuna, and many others.
Ready to test your angling skills? To book your trip with Captain Stan and his crew of deep sea sportfishing experts, call us today 305.945.1578.