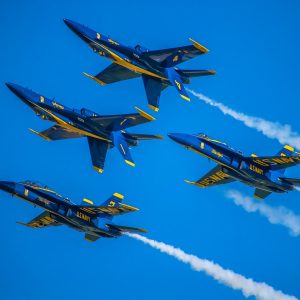 The Hyundai Air & Sea Show is a springtime highlight in Miami. Returning to Miami Beach with some of the most amazing and water adventures, this two-day magnificent event takes place on the beautiful beachfront of Miami Beach over Memorial Day Weekend. 
Professional jet skiers, ThunderCats boat races, and a Cigarette Powerboat Racing demonstration are always featured at the Hyundai Air & Sea Show. Following the magnificent water show, attendees will be able to see the activities of the US military's cutting-edge forces, including parachute teams, jet demonstrations, and search and rescue operations. "The Greatest Show Above the Earth" honors the men and women, technology, and equipment of the five services of the US military, as well as police, firefighters, and first responder organizations.
Aside from the official Air & Sea Show, The Music Explosion is the event's musical and entertainment component. 3 Doors Down, an internationally known rock band, will perform on the beach this year. The US Army's "As You Were" Band and the US Air Force's "Max Impact" Band will also perform at The Music Explosion concert, combining music and air.
Don't forget to schedule a Miami deep sea fishing trip while you're in Florida for the Hyundai Air & Sea show! Therapy-IV has boats that leave every day to catch the best of the Atlantic, including marlin fishing in Miami Beach. To book your trip with Captain Stan and his crew of deep sea fishing experts, call us today 305.945.1578.