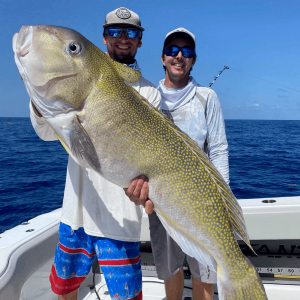 The Golden Tilefish may not have got its name from winning any jackpot, but those lucky enough to catch a Tilefish, may beg to differ.
There are few fish better to catch than a Golden Tilefish, whose name comes from the large yellow spots across its blue-green back and lighter-yellow or pink sides. Most, however, recognize the Tilefish for its googly eyes and funny look. On average, Tilefish weigh 5 to 10-pounds. But sometimes catching a Tilefish takes skill and a whole lot of muscle as they can grow up to 4 feet and 80 pounds.
Often found in warm waters, and at depths ranging from 500 to 900 feet, Tilefish can be found up and down the eastern coastline. Tilefish live in areas with soft, muddy bottoms to burrow and guard themselves against other predators. Unlike schools of fish, the Tilefish tends to swim only in small groups, as well as swim in a slow and calculated manner, making them all the more tricky, and lucky, to catch.
If you are ready to try your luck at catching a Golden Tilefish, Miami deep sea fishing is the place to try your hand. And don't worry, if you don't get lucky, there are still plenty of fish in the sea to catch.
Captain Stan and his crew of deep sea sportfishing experts have been fishing the Florida waters for over 40 yrs, providing private and shared deep sea and Biscayne Bay charter boat experiences. To book your trip of a lifetime, call us today 305.945.1578