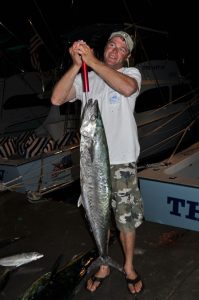 Kingfish are one of the most common catches we see aboard THERAPY-IV. When it comes to Miami deep sea fishing, there is always an abundance of species to go after, but the kingfish is one of the most popular species for experienced and new anglers alike.
Kingfish are in the mackerel family and are a schooling and migrating species. They are found right off the coast in South Florida during the winter. They typically migrate to more north waters in the warmer months. Their ideal temperature ranges from 68 to 84 degrees Fahrenheit. Winter makes a great time to go Miami fishing if you want to score a kingfish!
They can grow up to 30 pounds, but Florida holds a record for a 90-pound catch! You can identify a kingfish by its sharp teeth. Use caution when catching these fish – use heavy wire or mono leader to protect yourself against cuts. Anglers can also identify them by their leaps, spins, and fast runs. They put on quite the show!
Want to catch a kingfish for yourself? Take a trip on THERAPY-IV!
Our fleet as two 58-foot sport fishermen bots that are fully equipped with large tuna towers for keeping a lookout for large game, giant outriggers for spacing bait apart, and a flying bridge with a captain's chair and two fighting chairs, two large live bait tanks, and a giant transom door for boating large catches.
Our charters set sail daily, every day of the week, and are available for private or corporate groups or a small group day at sea. All trips include rods, reels, bait, tackle, a captain, mate, and a Florida fishing license.