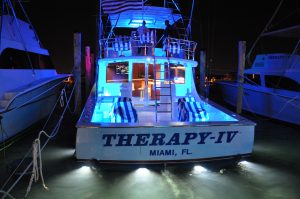 So, you want to explore the waters of the Atlantic? Miami deep sea fishing is one of South Florida's favorite past times, and whether you're a local or just visiting, it's a wonderful way to spend your free time! However, knowing what charter to choose can get confusing, especially if you don't know what to expect. Thankfully we have you covered with several options!
THERAPY-IV offers half-day and full-day charters. Half-day charters are designed for those who are relatively new to marlin fishing in Miami Beach out in the deep. With half-day charters, you will only be two miles from the Gulfstream (we are located just two minutes from the ocean and only ten from fishing). On these trips, you will be out to sea for four hours. You can choose either a morning or afternoon charter:
8 AM – 12 PM
1 PM – 5 PM
Night fishing can be arranged upon request.
Our charter boats offer shared-yacht charters. We are the only ones in Miami to offer fill-in service – meaning, if your party is less than six people (our boat capacity), we will fill in the rest at no extra charge to you. Want a private charter? Just call us to learn more!
We also offer corporate days at sea. It's a great way to relax and build relationships with the whole team. THERAPY-IV has years of experience in working with companies to set up these fun, full-day events.
If you need a large group accommodation, we are happy to help you out! Just give us a call (305.945.1578), and we can coordinate nearly any size outing for you.