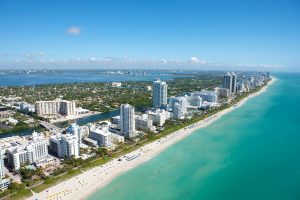 If Miami deep sea fishing is on your fall itinerary, we have you covered. Our crew has over 40 years of experience and is ready to help make your next trip on the Atlantic waters one of the best. Whether you're new to fishing in Miami, traveling here, or are a long-time angler, we'd love to have you on one of our charters.
Is inshore fishing something you're looking forward to as well? THERAPY-IV does that too. We have fully equipped outboard boats for fishing near the shore. It's a great way to enjoy the beautiful October days here in South Florida without staring too far from the coast. While catches depend on season, we typically see barracuda, tarpon, jacks, snapper, ladyfish, snook, mackerel, grunts, kingfish, and cobia on any given day.
Interested in marlin fishing in Miami Beach? While we don't specifically target marlins, they can be caught when searching for sailfish and sharks. Blue marlins are the toughest to catch in all of the ocean, putting up quite the fight. They are not a common catch, but it's quite a rewarding experience when we get one! White Marlins are more abundant in the fall and spring, while Blue Marlins are found in the hot summer months.
Miami is famous worldwide for its endless amount of water activities like deep-sea fishing. It's a great way to get a close-up view of the water and a stunning long-distance view of the city. If you want to add deep-sea fishing to your to-do list, visit us online to book your trip!