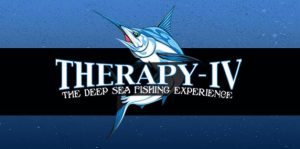 THERAPY-IV has a new website! It's the same great service you know and love, but with a slightly different look. We're quite excited about it as we believe it will help us better serve you and help you book the ultimate Miami deep sea fishing experience!
Captain Stan and his crew of Miami fishing experts have been fishing the warm waters of the Atlantic for over 40 years, including private and shared deep sea and Biscayne Bay charter boats. Whether you're an experienced angler or it is your first time fishing in Miami Beach, you can count on us to make your day at sea one to remember!
The THERAPY-IV team will help you book your private or corporate events at sea. We're located at Haulover Marina in Miami Beach, FL. Our charters set sail from 8 am to noon, or from 1 pm to 5 pm daily for half-day charters, or from 8 am to 4 pm for full-day trips. Each boat can take a group of six, but for larger groups, we can coordinate via phone to accommodate your trip! Just give us a call at 786.855.6304.
We've got a new addition to our fleet! Our new state-of-the-art yacht sits at a whopping 58 feet and is docked next to the tried and true THERAPY-IV. Plenty of space and comfort, along with Captain Stan's experience and commitment to deep-sea fishing, will make it a great place to set sail on your next trip.
If you're interested in setting sail with us, call us at 786.855.6304 or visit us online to book your next fishing trip!